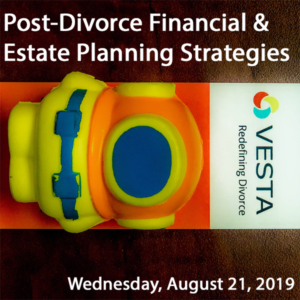 Post-Divorce Financial & Estate Planning Strategies
Skylark Law & Mediation will be hosting a VESTA free workshop on Wednesday, August 21st from 6:30 PM to 8:30 PM at The Collaborative Outpost located at 9 Main Street, Southborough, MA.
We will be covering two of the most important issues one faces due to divorce:
Ensuring you have proper pre and post-divorce estate planning in place, and
Building/rebuil

ding your financial position after divorce or separation.
Beth Aarons, Esq., Estate Planning Attorney of  Skylark Law & Mediation will be presenting on The Dos and Don'ts of Estate Planning:
An Overview of Estate Planning: Basic estate plan documents; Pitfalls of no planning or improper planning; What is probate, how can it be avoided? How estate planning (particularly trusts) can help to avoid pitfalls; Dos and Don'ts of using trusts for divorce planning (Pfannenstiehl, etc.)
Post-Divorce Planning: Updates to estate plan documents; Beneficiary designations
Pre-Divorce Planning: Protecting a child's inheritance from potential divorce
Andrea McGrath, CFP®, CDFA®, Financial Advisor of Strategic Divorce Planning will also be presenting on the Top Ten Post-Divorce Financial Tips.
This event is intended to be partly informational, partly social, and totally empowering … in a welcoming and interactive setting. It will include a chance to socialize with other attendees and speak one-on-one with Beth and Andrea.
Complimentary refreshments will be provided and there is no cost for attendance and advance registration is required.  Please RSVP to Deanna at team@VestaDivorce.com or 508-744-6014 OR Reserve your free ticket through Eventbrite here.