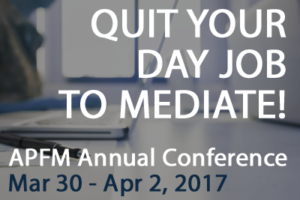 The Next Generation of Mediation: Go Ahead, Quit Your Day Job
Academy of Professional Family Mediators 2017 Annual Conference, Memphis TN
April 1, 2017 – 1:15 PM – 2:45 PM
This interactive session with Michael Aurit, Amanda Singer and Justin Kelsey will showcase an in-depth panel discussion of four essential family mediation business building areas: (1) Most effective marketing strategies; (2) Biggest marketing mistakes; (3) Modern billing approaches to increase business; and (4) Best overall business practices. This candid conversation will provide takeaways that participants can immediately introduce into their own mediation practices to win more cases and grow business potential. A "roundtable" audience participation portion will offer audience questions, comments and engagement.
The Academy of Professional Family Mediators 2017 Annual Conference is taking place from March 30, 2017 through April 2, 2017 at the Doubletree Hotel in Downtown Memphis, TN.  Click here to view the 2017 APFM Conference Flyer or here to Register.
The Flyer has a discount code for $50 off (MEMPHIS17).